Looking for a self catering cottage in Brittany? Choose Manoir du Vaugarny.
In this very large and spacious cottage of 100sq m you can enjoy a very comfortable and special familly or friends holidays. This cottage is just perfect to savour the calm and the view of a preserve environnment.
With its restoration, we have focused on both comfort and authenticity, choosing high-end materials to make your stay agreeable.
Looking for a very safe place to stay with your children in Brittany? Choose Manoir du Vaugarny.
It is equipped with three large bedrooms (one king size bed which communicate with the children's bedroom with two single bed, and one independant double bedroom ), a bathroom (bath with shower) and a very large lounge for a big familly or friends holidays.

Manoir du Vaugarny is the only private Manor house surounded by countryside, access by a private lane, your children will enjoy to play in a very safe area.
Looking for nature and heritage in Brittany? Choose Manoir du Vaugarny.
You will enjoy to spot the red squirrels, deers, and hares who live around Manoir du Vaugarny in our lovely garden.
You will enjoy the 400 years of history, of this private Manoir House and its outbuildings.
The three cottages are situated in 17th century outbuildings 100 metres from the Manor House.
It is the only property at the end of a private lane surrounded by beautiful countryside and wildlife.
All cottages are independent and not overlooked, and with free Wifi.
Each has its own private sunny garden, patio, barbecue, quality outdoor furniture and parking spaces to ensure the privacy of your stay.
First year opening 2018.
Our guest feed back https://sawdays.co.uk/france/brittany/ille-et-vilaine/manoir-du-vaugarny
Manoir du Vaugarny is partner of the most beautiful château of Brittany. Château le Rocher Portail.
We offer you tickets (for a week stay) to visit château le Rocher Portail during your stay : https://lerocherportail.com open from 1st May to 15th Sept.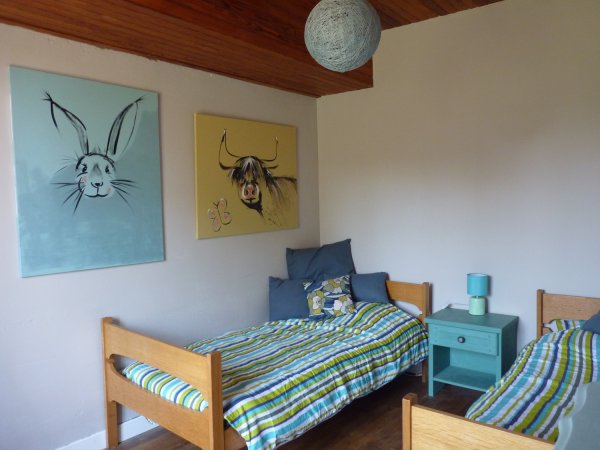 Looking for a very large cottage to stay in Brittany for a family events? Choose Manoir du Vaugarny.
You can rent the 3 cottages, which can welcome from 2 to up to 16 people. You will enjoy a private stay with a very warmth and shared atmosphere .